I will be both recording more information on the day or the shot, and writing up a report like this for future shooting competitions. I have ordered a couple of Rite in the Rain notebooks and intend to fill them out a little like you would a traditional DOPE databook. This works into how I like to work – in regards to writing data down before shooting – I just need to formalise the format.
Tarata Medium Range Shooting Competition
The Tarata Medium Range Shooting Competition is held in Taranaki and hosting by Gillice Practical Shooting Events – in Simons (the Match Directors) words –
This event is a medium range field shooting event. This is a great event for hunters and medium range target shooters alike.

The open class course of fire involves 50 shots spread over 10 shooting stages. There are typically multiple targets at each stage and the target distances vary from as close as 10m out to about 600m.
I was competing in the Open Class with my Remington 700 308, and, in true fashion for myself and match prep – found myself using brand new brass and essentially fireforming during a competition. However, it is also fair to say, that it wasn't my ammo, nor my rifle that caused any of the missed shots on the day.
Preparation
I had recently had my first case head separation, so had decided to replace the Lapua Brass with a new batch, coinciding was that was that I was just finalising a new load using the Berget 168 grain Target Hybrid Projectile for the .308 – basically, this meant going into the competition with a new load, in new brass – a great combination!
Just to really twist things up, I also decided to de-copper the barrel – as the test loads had shown a couple of flyers I couldn't explain.
So – to recap – new load, new brass in a clean barrel. A great combination!1 00:09
As usual, the Labradar did it's job with minimal fuss.
Anyhow, I got down to the Naki' early, visited Graeme from the Taranaki Long Range Shooters (check out my interview with him over here) and managed to get the rifle fouled and zero'd. A good night chatting, and we were up and off the next morning (after I managed to stick a pile of bacon to a non-stick pan).
The Competition
The last time I shot this competition was 2 years ago – and it rained the majority of the day, it was also very cold that time – so I was very happy to have a fine morning, with no rain forecast, and little wind expected.
Wind and Weather
On the whole, you couldn't have asked for a nicer day
It was hot, that's for sure – and the odd breeze that did come through was actually welcomed – as it cooled things off. Overall, we had occasional 2mph justs – with a lot of the day being totally still. Many times, I allowed for .1 or .2 mil wind dial (a bit of that being the beginnings of spin drift) – but didn't really need to allow for the wind at all during the day. Temperature wise, I did hear from a few guys that their rifles were showing pressure signs, which may have been a result from load development done before summer – which makes for a good PSA –
Lads – if you have loads that were developed in the middle of winter, and are near max-pressure – be aware, that temperature increase can cause you to start developing dangerous pressure levels – as many powders (even some marketed as not doing so) are temperature sensitive to some degree.
It's worth maybe checking velocity increases as well – as they may have pushed you out of the accuracy node you found at a lower velocity (faster is not always better).
Gear
I was shooting the Remmington 700 308 – this is the SPS model – with the factory Varmit Barrel and sitting in an XLR Element Chassis. I have been shooting this with the Vortex Razor HD II 4.5-27 on it.
My main Ballistic Calculator was the Kestrel Elite 5700 with Applied Ballistics on it, and I had just picked up a Sig Kilo 2400 which was just used for ranging targets on the day. Ranges were actually given, but, you know, new toy.
For this shoot, I was also having a play with a 'Duty Belt' from Twin Needle. I really like the idea of carrying the basics on me – basics including a blow out kit. While I am sure plenty of folks had first-aid on them (I would hope so, at least) – I always wonder what would happen if someone needed some, and none could be found. Yes, the Match Director keeps a kit in his truck, but if it's serious enough to need immediate attention, then that needs to be immediate.
I was also wearing my 'ball vented' UF Pro HT Pants and the Battle Shirt. It was hot. I am very thankful for the venting because it would have been extremely uncomfortable without them. Either that or I could have worn shorts (pants and top) – but I would have been burnt to a crisp.
Results
In the Open Division, I came sixth out of twenty-two competitors. Which is fine by me. Considering the amount of practice I get done at the moment (nil) and the fact it was a new load, I am more than happy to be in the top third of the field.
I shot a score of 123 out of a possible 250. Wilhelm, who won the comp, shot a 191.
However, a did make a couple of stupid mistakes, which will go into a little more below.
Shoot Details
Ten stages, ranging from 10 meters to 594. The round count was around fifty – with a couple of stages having unlimited round counts.
Simon's (Gillice) shoots are normally a good balance of distance, target size and unconventional shooting positions – there is little shooting done prone – and if it is, there will be a twist in either the target presentation (spinners, swingers) or approach (like having to run between trigger pulls).
I knew this was a medium range shoot – so a little more emphasis would be on speed, with time limits workable, but demanding quick position setup and shot execution.
Let's break the stages down. My squad, H started on stage eight.
Stage Eight – Paper
(6 out of possible 9 points scored)
I should have cleaned this stage.
A simple, but a devious stage – you simply start with the rifle unloaded, three rounds in your hand, head over a small rise and shoot at a target ten meters away from you.
Basically, for bolt guns, I just single feed them through the top. You actually have enough time if you don't panic.
Last time (two years ago) I shot this stage last – I was cold, fingers were not functioning, but I still think I got two hits out of three.
This time, fresh and ready, I got ready, walked over the rise, dropped my first round into the chamber and watched it hit my foot. I had forgotten to put my mag in!
Picked the round back up, jammed in the mag, loaded, shot, loaded again, shot and timed out. Silly.
Stage Nine – Tyres
(24 out of possible 48 points scored)
I think, in hindsight, I need to read up and talk to Simon about his views on walkthroughs. Generally, I have taken the 'PRS' style – of no walkthrough, just walk up and shoot. However, in a couple of cases, had I stopped and thought it through, I would have done things differently.
Basically, my takeaway is this – don't stand when you could kneel and don't kneel when you could sit.
The original plan was to essentially start in the high middle tyre, kneeling to shoot through it, but I got into position and found myself wobbling all over the place. Instead or sorting my position, I tried to 'muscle' my way through it – however, I eventually decided to actually sort out my shooting position, sat on my bum and hit the target.
While prone bipod wasn't really an option (I don't think I would have been even able to fit the rifle under the lowest spot, it did remind me of this video –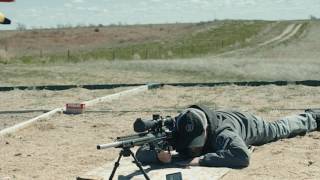 After that, I was basically rushed to get away the rest of the shots – and didn't engage over half the targets at all. Not ideal.
A good lesson in taking the time to get comfortable and solid before trying to take a shot.
Stage Ten – Big and Small
(19 out of possible 35 points scored)
This was really a confidence test. One large target, one small, over twice the points for the small target. I shot four at the large and took the last at the small. Hit all rounds. Should really have switched sooner – as I saw all the impacts on the large steel (and a nice grouping at that) – so was able to make the slight wind adjustment needed to hit the small. Really, I could have taken two at the large and three at the small. Missing one of the small hits would still have scored me more points.
Stage One – Rapid Fire
(-6 out of possible 15 points scored)
This was shot at a spinner target. Small (top) target was worth 3 points, small 1 point and each miss was .3 points.
While I had some hits on this stage, I had more misses. Most likely, it was one of those cases where you start panicking and getting frustrated and send more and more rounds down.
Stage Two – Hill Side
(12 out of possible 24 scored)
No prone, on a decline hillside. The intention (I would believe) to force you to shoot sitting or supported in some other way.
I tried to use my backpack for this as a support in a sitting position – while it kind of worked – I basically need to practise this position (and work with the backpack) a bit more – alternatively, if I had carried my spotting scope with me on the day, I would also have had the tripod I could have used.
Stage Three – Learn your Limits
(15 out of possible 25 scored)
I do like learn your limits stages – the target array is just fun to shoot. Basically, on this one, I got through to the 3rd target but couldn't hit any smaller on the day. Unlike a know your limits stage, a miss didn't mean I needed to start again.
Stage Four – Swinger
(10 out of possible 25 scored)
I also call this one the fishing line. If you havn't shot it before, the first time you hit and the thing starts moving, well, your thoughts about the stage change.
Not only does this swing left and right and bob up and down, that all turns into an oscillation that is very hard to predict – it changes and switches each time – so it becomes very hard to predict. I tend to try and position my sights where I expect the target to move into – and this doesn't really work for this kind of target – you really need to follow and lead the target instead.
Stage Five – Hostage
(14 out of possible 21 scored)
Ah, the hostage or 'no-shoot' targets. Basically, you need to hit, and you miss, in this stage you get penalised. Looking through the scores, there were a few negatives on this stage – so it looks like a few people managed to shoot the white.
Stage Six – Tank Trap
(13 out of possible 26 scored)
Refer my notes above about a walkthrough.
For this stage, I intended to follow what a lot of the other guys were doing – the centre cross frame gave a good natural point of aim at the longest target.
Which is all fine and good, until I sat down to shot and realised all the other guys shooting it were right handed. For me to do the same shot, on the same side, I would need to be sitting on one of the cross members.
Flustered, I moved and basically stuffed up the rest of the stage.
Stage Seven – Dash It
(16 out of possible 22 scored)
Tight, tight time limited. Sure, one guy finished it, out of 40 shooters – and I pick there were a few hail marys in there as well.
Awesome stage though, really enjoy anything that forces you to move, get the heart rate up and still think.
And done!
Overall, it was another great day put on by the folks at Gillice Practical Shooting Events.
Congratulations to the winners of the competition. Looking forward to the next one.
Additional photos (as watermarked) from Simon Gillice.
---
that's sarcasm for those who didn't pick it – I am becoming aware a lot of the sarcastic comments I drop actually go right over the heads of many people ↩